Posts Tagged 143 Word Review
---
Courtesy of Reconnections
Today is the final 143 Word review. It can be  said that the idea, originally thought up by Sinan, has been a resounding success. I've produced some of my best work of the year and in a postmodern twist, my final 143 Word review will be on the 143 Word Challenge.
143 simple words, flowing in fragmented fashion to create an impression of a product. A cultural icon. An expression of mindless entertainment.  A thought, an opinion, a lingering viewpoint that refuses to leave our consciousness. It must be penned, shared, discussed, commented – it must sit eternal on the internet until someone switches off the world wide web.

That thought process of creation – a penning of the soul will never match another person's in the world. It's alone, unique, innovative, drained and repetitive. It uses everything in the English Language to talk about what it wants to. Then it stops, it ends. It never continues past the intended point. Nothing more than, nothing less that. Perfectly defined – for that is prose, critique and artistic wallowing.

One hundred and forty single small words. You write it, I read. It has a mind of its own.
Previous 143 Words Reviews: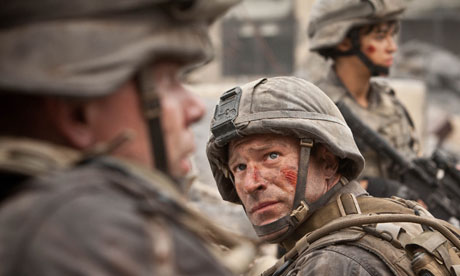 Courtesy of The Guardian and Copyright: Richard Cartwright/AP
Sorry for the break in One A Day blogging (and 143 Word Reviews as a result). I return  with a film review – new sci-fi marine-recruitment film, Battle: LA for number 6. Sinan has done some excellent entries since; Crackdown 2 and Blood Stone 007.
Will Smith punched an alien in the face once complete with humorous quip, "Welcome to earth." Then him and a nerd pilot a commandeered alien craft, jack in a USB drive to an alien mainframe and upload a virus. Defences lowered, a jet fighter squadron headed by the US President take the fight to the scummy outer-earthers before one plucky drunk ex-crop-duster flies an F22 into the arse of a mega laser to save the world.

Battle: Los Angeles is simpler; one laser guided missile halts the water-sucking-ETs. Characters? Some throw away grunts; an old timer carrying guilt; one token Nigerian, redneck, woman and avenging brother accompany some civilians to an evac-point.  The audience follows the invasion from ground-level with shaky-cam quick cuts. It's Black Hawk Independence, without any of the magnificence or grit of its source material.

Mindless Marines with UFOs. Hoo-Rah.
Note: I have no idea if it's an F22, it could be an F16 or some other jet fighter. I do not know these things. (It's a F15 Eagle, thanks Will)
Previous 143 Words Reviews:
---