Archive for Television
---
Courtesy of Collider
I'm bummed. Why? In reality it's because nothing's changed. Yesterday US TV network TNT cancelled Men of a Certain Age, just as the second series had finished airing. Why is this an issue? American networks have a habit of running shows for half a reason, and axing them. Surely I shouldn't be upset about this?
In reality MoaCA should be pleased that TNT supported it for as long as it did. After all, money trumps creativity in the lucrative TV market, so it was only a matter of time till the show found itself in the bin (which is a cruel comparison as rubbish deserves to be in the bin, not quality).
At this point you're probably wondering what the show is about, and that's half the issue. While it may have been a critical darling and possessed some of the best acting on TV, its ratings were depressingly weak. Never mind the fact that it was a show that rivalled Dexter, The Sopranos and Castle for quality and human capture, its mass appeal was limited by a lack of definitive identity.
Men of a Mixed Bag
Men of a Certain Age was an odd mix of sitcom, drama, fly-on-the-wall realism and nostalgic mundane. Maybe there really is no room for older actors in US television – its leading cast painted a realistic and natural picture of what happens in life once you leave the stumbling confusion of your early years.
Created by Mike Royce (and Ray Romano), Men was a tender exploration of life supported by some stellar talent. Maybe it's because I have a major soft spot for Ray Romano, star of Everybody Loves Raymond (arguably my favourite sitcom rivalling Friends or Only Fools), that I fell in love with it. Would I have tuned in for the pilot if I'd not known he was the co-creator and leading star?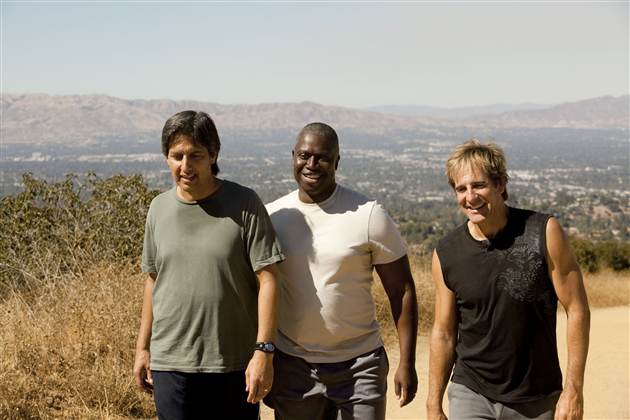 Without the canned latter and outlandish hijinks, Romano actually showed what a strong actor he is. Struggling with a gambling addiction, Joe (Romano's character) juggled a party-supplies-shop, a fresh divorce, two kids and his two best friends. Over breakfast every morning, they'd sit and discuss their lives, what's happened to them and lightly insult each other in a way that was funnier than any posed sitcom.
As the show progressed, the natural acting went from strength to strength and the supporting cast became part of your family. These felt like people you knew, wanted to know and wished to spend time with. Despite a lack of action, pace or often, noticeable plot, MoaCA weaved lives that felt real. Each of the three had their trials and tribulations that felt insurmountable – in reality, they were just jigsaw pieces that part of a less obvious master plot.
How about Owen (Andre Braugher's role) who was constantly in the shadow of his father, despite being given the keys to the family car dealership. You rooted for him, felt for him and laughed when he struggled to control his business, family life and weight. It felt as though you were next to him, even when nobody else was. His ever faithful wife and children were the only people that saw his intimate side.
And who'd forget Terry (Scott Bakula), the half assed actor turned car salesman, who refused to act his age. Constantly struggling to shake the fact he's blinked and seen his life pass him by, his romancing and irresponsibility were escapes he constantly fell back into.
It's not just the three that made the show – the meandering plot ensured they revealed every part of themselves. Maybe it was too realistic – with broadcast packed chock full of crime drama, serial killers, executives and singing teenagers, it might be the case that nobody wanted to sit and watch life.
Anyone tuning in could be excused in thinking it was a pseudo documentary into what happens when you hit 50 – not a lot it seems. Meals with old friends, going to work, hiking past the fantasy woman.
The saddest thing about the cancellation is that we'll never know what'll happen – I want to avoid spoilers. With it only running for two seasons (of twelve episodes each), it's best you just watch it and enjoy. I do hope UK retailers see a UK DVD distribution.
Courtesy of Dead End Drive-In
Several months ago, Captain Chants lent me the first edition of Walking Dead, the post-apocalyptic zombie graphic novel series. I'm not the biggest fan of comics, but with a love affair for anything undead, it was obvious that I'd fall in love with it. The art style manages to bring the story to life and those who've recently watched AMC's series on TV should take a look at the books. They're on par with the quality on screen. I'd queued up the series (having really enjoyed the first two episodes) to fall back on during my Christmas break and thankfully found the translation to be of equal quality.
It might not be as dark as the comics, but for a regular-slot TV series, there's plenty of undead abuse in the screen version. Zombie's are all the rage at the moment (just look at the influx of games and films that feature the undead), so it's a surprise that there's so little on TV that takes advantage of our seemingly love for our mumbling friends. It wouldn't take much brains to create a series that deals with the 'oh-no' situation that Walking Dead does, but to do it  without any hint of B-Movie first time around, is fantastic. If you compare it to the BBC's painful flu-pandemic series Survivors, where everyone sits around in love with each other while moping at lost children and jobs, it further cements the fact that US TV is miles ahead of its UK equivalents.
The series deals with the human and poses some interesting questions. Sure, a lot of it is cliché and has been done before, but if you're watching a programme about the end-of-the-world via the chomping undead you expect some metanarrative. A further plus is that The Walking Dead  limits the cringe worthy CG to only one building explosion (ala Leverage – fans of that will know what I mean). Of course, when you look at the production talent behind the series, it's no doubt that it's come across in good stead.
Check it out, it'll surely be on DVD soon. Any other fans out there?
---