Archive for Art
---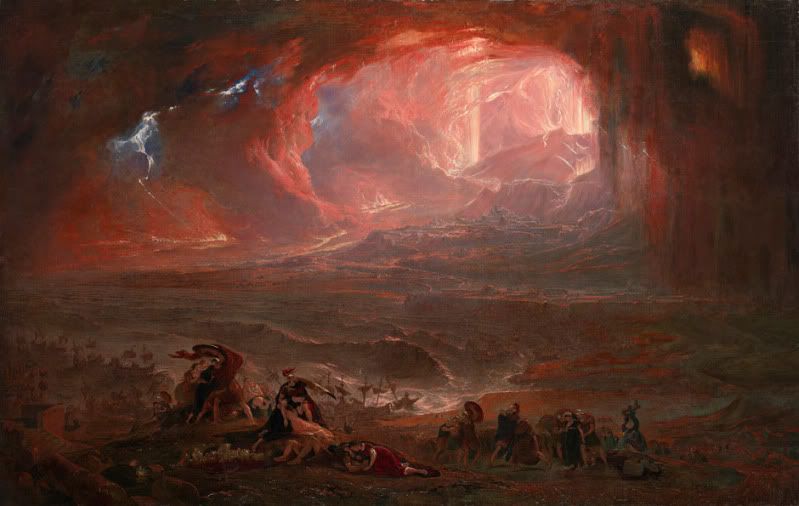 It's been a while since I've been to an art gallery. The last exhibition I saw was Close Examinations: Fakes, Mistakes & Discoveries in the summer of 2010 with Steve Hogarty. Today it was the turn of Sean Bailey and the Tate Britain where we saw John Martin: Apocalypse, an extremely impressive collection of canvases from the 1800s British artist.
Martin's fascination was with death, destruction and the end of the world to a Biblical scale. Fire, brimstone, dramatic skies – his collection of work is an incredible assault on the senses. Step back and you're greeted with huge paintings that engulf you. Move closer and the level of detail is astonishing – every minuscule face, painted – wild swathes of watercolour create an imposing sky, war scenes recreated to the last arrow.
Milton's Paradise Lost proves much of the backbone for Martin's work, as does the book of Revelations. You could argue that many of the paintings look similar, but with every room you find something new that manages to take the breath away. The destruction of Pompeii with the volcano pulling a sheet of annihilation over the city's inhabitants; a particularly impressive piece of art.
And the best is kept to the end where Martin's use of 'light versus dark' is no more apparent with his three most famous paintings. In a semi-interactive presentation using modern projection methods and surround sound, you're brought back to the 1800s and treated to an aural and visual exploration of the work. It's by far the stand out part of the exhibit and it's interesting to see an ancient art meet the modern so effectively.
It'll cost you £12.70 pre-gift-surcharge, but hurry fast as the exhibition ends on the 15th January 2012. Recommended, regardless of your artistic taste.
The last few months have been fairly cultural. I'm a big fan of art,  theatre and cinema and the older I get, the more I want to see – I've got a real thirst for knowledge that'll hopefully continue through my life. If I could just recover my passion for reading, that'd be great (it was destroyed by my Literature degree). Anyway, cultural musings aside, a while ago I went to see Hayfever at the Rose Theatre with Captain Chants. Not knowing anything about the show (she kindly provided a free ticket), I approached the performance without expectation. Surprisingly, to both of us, it proved to be a wonderful play, rich in black comedy and unique melodrama. I'm unsure as to whether it's still being shown, but if so, I implore everyone to see it. It's really spurred me on to see more theatre and if anyone's interested in going with me, please get in touch.
Not content with Hayfever, I went to see Grease at The Picadilly theatre in the West End three weeks ago. I'd originally seen it in April, but the performance was cancelled halfway through thanks to a power failure. This time around there weren't any issues and because it's been months since I last went, the cast has changed allowing me to approach the musical with fresh eyes. Grease is a favourite of mine (West Side Story is the other) so it was great to see the songs in the flesh. Anyone who enjoyed the film will love the live version, even if the script is slightly different (due to obvious stage limitations).
Finally worth sharing is that I'm off to see The Rat Pack tribute act down in Southampton next Saturday. I'm really looking forward to it (having seen them perform a year ago in London) and again, while they might not be the originals, having a chance to hear a Sinatra clone sing live is an exciting opportunity.
Never one to shy away from culture, I dragged Steve Hogarty along to the National Gallery yesterday. It'd been a while since I'd visited and Steve, despite living in London for a number of years, had never been. We wandered the halls for an hour before dropping into the Sainsbury Wing where a temporary exhibition titled, "Close Examination: Fakes, Mistakes & Discoveries," is housed.
Made up of six rooms, each with a different theme, the showcase explores the ways in which technology is helping to unmask the mystery behind many works of art. Technological advancement has yielded new truths about pieces five hundred years old. They range from drastic alterations, restorations and to full blown, fraudulent copies.
Each painting is explained as to how the truth's been discovered. Often it's through pigment analysis which is subsequently cross-referenced with historical records. Other examples include the use of X-Rays to reveal the original painting, pre-edit beneath.
It'll take you roughly 45 minutes. Even if you only have a passing interest in art, it's fascinating to see how a bygone era is clashing with our modern age. It does pose the question that how many of the pieces in the main collection are true originals. It'd be great to see what the experts have discovered in ten years.
It's open until the 12th September and it's completely free (as is the Gallery). More information can be found at the official website and I highly recommend you pop along.
---